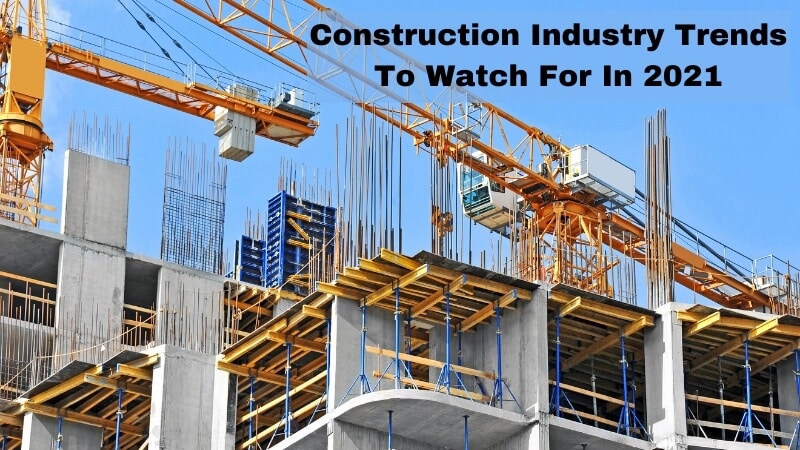 COVID-19 changed the construction industry forever. Scheduling, hiring, the types of projects investors choose to fund, and safety protocols while on and off-site have all been affected. Yet, all these changes do not immediately spell out trouble for the industry. In fact, they can lay the foundation for positive growth, if companies are willing to adapt.
It appears most construction companies intend to do exactly that. The majority of surveyed construction company owners agree that COVID-19 will accelerate changes in the construction industry that was already in progress, such as sustainable and modular construction. Most also agree there is an imperative to invest in their ability to pivot and move with these coming shifts and trends. Companies that do not are likely to struggle as the construction industry moves rapidly toward a new future.
Let's take a look at five of the biggest projected trends for 2021 to see how your company can evolve to thrive throughout these turbulent and uncertain times.
More Protection for Construction Workers
Increased health and safety measures on the job are a natural and perhaps obvious trend due to the pandemic. Companies are up-leveling their guidelines in accordance with state and/or federal regulations in order to stay in compliance. This includes greater cleanliness, improved sanitation practices as well as more protective gear for workers.
However, COVID-19 isn't the only threat construction companies are looking to thwart in the coming year. Many construction firms have started implementing robots to help them with their projects. Some workers are concerned that robots will replace their jobs entirely, but the influx of machines in the construction industry is often more about aiding workers than replacing them.
On some sites, machines perform jobs like scaffolding construction and brick-laying – a trend that is likely to grow exponentially over time. This practice not only increases efficiency and cost-savings but also reduces worker injuries.
Remote Worksites and Mobile Access
In today's world, if you can do a job remotely, it has a much greater chance of success and survival. Construction companies have pivoted toward more off-site practices that allow them to continue building during the pandemic without exposure.
Mobile connectivity is a major player in this shift. Certain applications allow you to create and share measurements, inspections, budgets, and other data, without physically encountering another person on the team. Companies can keep their projects running in a "connected-but-physically-distanced" environment without sacrificing quality.
Companies without a strong mobile connectivity infrastructure will likely have a hard time competing in the future, as the industry continues becoming more reliant on these technologies. Wise company owners are looking to transition to a more mobile, remote way of operating in 2021.
Prefab and Modular Construction
Prefab and modular construction popularity has been steadily rising year after year. The pandemic has only accelerated this growth. Modular construction is an expansive manufacturing process, making it a natural fit during this time of physical distancing. In addition, its assembly requires low worker density. This means companies can cleanly choose this method of production without worrying too much about restructuring the process to suit the needs of the pandemic.
Modular and prefabricated construction is also usually faster and less expensive to build than traditional on-site construction. During uncertain times, when things are constantly changing, construction companies need to be able to change right along with them.
Payment Delays or Disputes
Tight finances are a part of any global crisis, and this pandemic is no different. Cash flow is at the forefront of many construction owners' minds in normal times. Some are now finding they're spending more time chasing down unpaid invoices or battling disputed charges. This is likely to continue throughout 2021 as clients and contractors seek to stabilize themselves financially.
To mitigate these delays and disputes, companies are turning to options like invoice factoring or mechanic liens in order to secure payment and keep their business afloat. Companies should take the time to learn about various options they can pursue in the case of a delay or dispute, in order to quickly resolve any payment issues that arise.
Green Building Construction
Green and sustainable construction is on track to become the fastest-growing industry across the globe. The demand continues to rise as awareness surrounding environmental health increases. While sustainable living is often considered a luxury, it is bound to become the new standard.
Green construction reduces a building's carbon footprint. This largely eliminates energy and materials waste and improves the mental health of occupants. As the climate crisis grows, so too will the need for sustainability in construction. Companies that do not have their eye on sustainability run the risk of being edged out by those who are working to build with environmental health in mind.
Stop Chasing Invoices and Get Paid Now with Capital Plus
More cash flow equals more options. Keep your business growing with construction invoice factoring from CapitalPlus. Let us purchase your unpaid invoices and pay you in as little as 72 hours or less. Contact us today to get started.
Back to blog