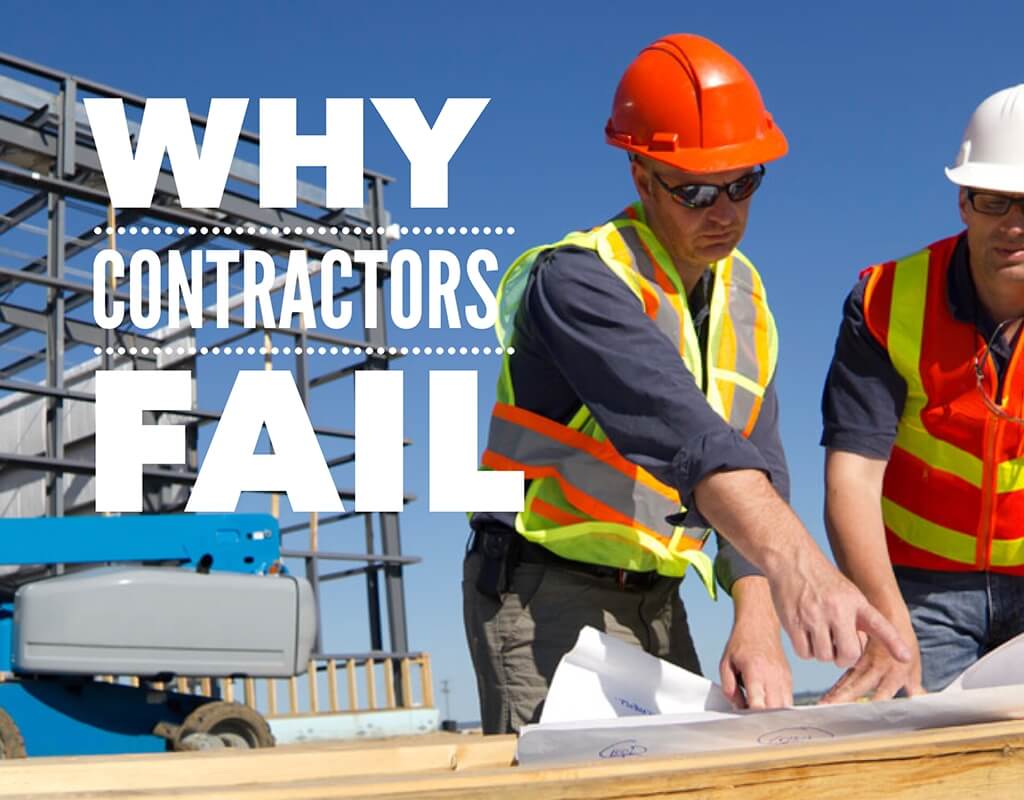 Businesses fail every day, especially construction firms. Statistics indicate that 50% of all small companies fail within five years. This is much worse in the construction industry where roughly 64% never see year five. The ingredients to failure are too many to call out in a blog, but owners of small to medium construction firms must understand, combat and manage the following five things.
1. Strategy – Most construction company owners are great at their trades and focus on the project at hand and the one on its way. The old adage in any business is "Fail to Plan, Plan to Fail". Owners must take the time to build a strategic plan and the tactical actions to implement it. This does not have to be a three-volume document, but it does have to be something you can pick up and routinely use to monitor your progress. Every successful business man/woman, athlete, musician, etc., sets goals and defines a path to get there. This holds true for the construction business owner.
2. It is a People Business – Every business says the "people are their greatest asset". First, that is incorrect as the RIGHT people are the greatest asset. Jim Collins, in his book Good to Great, describes the need to get the right people on the bus and then in the right seat on the bus. There can be nothing more important to a construction firm than hiring and retaining the right people. You can be a great boss and hire bad people, or worse, hire great people and not be able to retain them. Turnover is a death nail for small firms. There are tons of resources on learning how to hire, lead and manage people. Invest in yourself and the future of your firm by learning and practicing the right skills.
3. Lump Sum Bidding – Every job you chase is a hard bid, all-in price, and often with limited specs or information. Inadequate bidding means low margins and sometimes disaster. Low margins mean you live on the cash flow edge, never getting ahead. First, know what to bid and what not to bid. Resist the urge to bid on everything because you are afraid to miss out. Miss out on these poorly defined jobs by design. Also, be aware of scope creep. In every proposal, define the basis of your bid, what is included and what is not. Specify the conditions and assumptions you made to bid the job and then hold your ground when things change. Too many folks give in because they do not want to upset the customer. Before the creep occurs, communicate the concerns early and often with the GC and owner, and get signed change orders before moving forward. Sometimes you have to fire a client to protect your firm.
4. Not all Growth is Good Growth – Every business started with someone being really good at something. This is especially true in construction. If you are a good concrete guy or gal, stick to what you do well, concrete. Always be looking for ways to improve on your core business, ways to be more efficient and cost effective and ways to diversify your client mix; however, be wary of venturing or expanding into uncharted waters because you see another way to make a quick buck. And if you do expand, plan the growth; create a budget and forecast and know that growth takes cash. Be sure your current business and the new business will have sufficient cash flow to operate.
5. It's Either Feast or Famine – All small businesses struggle with either having too much or not enough business. This is especially true for construction firms that are affected in a huge way by weather. Most business owners are good at their trade but not so good at business management. Often a family member is the back office financial support that might not be that financially educated. Before investing in that next piece of equipment, think about getting a financial manager or outsource a CEO to help you run the business. Budget your business based on the seasonal bell curves and make allowances for the rainy months. Put strong financial discipline in your business ensuring you have the reserves in place to make payroll and keep those "right people" employed when famine is in front of you.
Back to blog