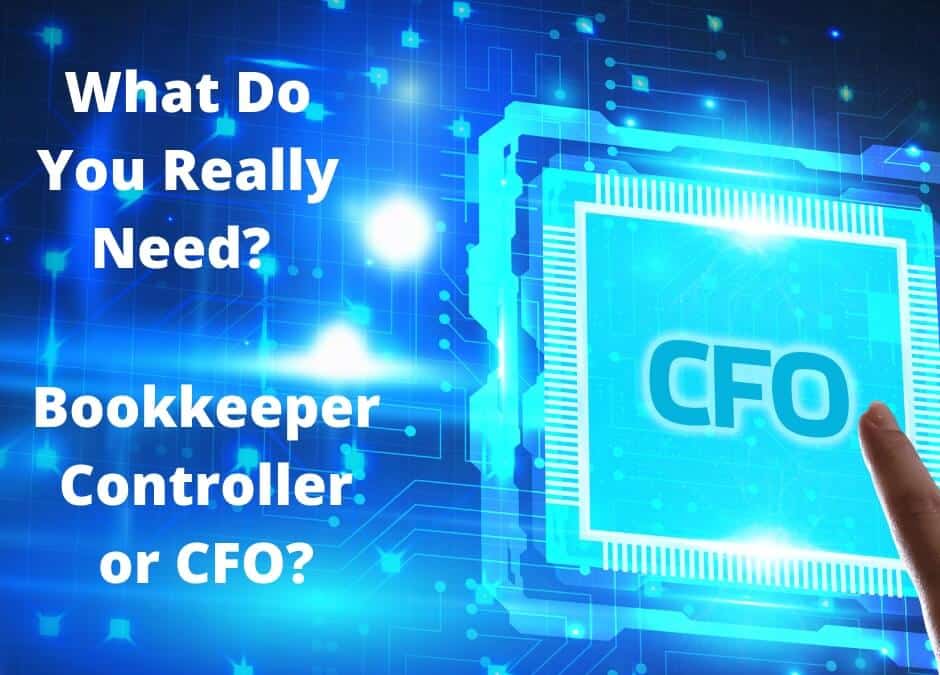 Odds are, when you began your construction company, you either took on the role of accountant or hired a friend or family member to be your bookkeeper. You may have tried to run your financial operations solo for years, but now you see that you can no longer operate efficiently without hiring some additional help.
A CFO, Controller, or Bookkeeper will help you find more balance and financial gains in your business – but each position will do so in a different way. Let's break down the differences between these three positions and why you would choose to hire each one.
The Bookkeeper in the Construction Company
A bookkeeper will be the least expensive position to bring on board, with an average annual salary of around $37,000, yet their impact can be immense – especially for small construction firms. Bookkeepers will handle the regular transactional paperwork for your business, process accounts payable and receivables, produce income statements and other financial statements, and look into the reasons behind cash flow problems.
Bookkeepers are not the right hire if you seek high-level tax help, a new financial strategy, or someone to help you better structure your finances. However, if you're at your wit's end, trying to be the chief cook and bottle washer, a bookkeeper is a great option.
Reasons to Hire a Bookkeeper
You realize you don't understand the generally accepted accounting principles or tax code as much as you need to.
You want someone to help you handle the increased paperwork from rapid business growth.
You want to focus your attention on expanding into new markets or services.
You need to spend less time doing your books and more time growing your business.
Your investors or lenders are asking for more professional reports.
You know you're about to be audited and want to better prepare your books.
The Controller in a Construction Company
A Controller is a step up from a bookkeeper, a step down from a CFO, and is usually in charge of the entire accounting department. When your company has grown past the simple need for a bookkeeper, a Controller is your next best bet. They can help you set up an accounting department if you don't currently have one.
This position is less about data entry and more about data analysis. They can help you see where you're unnecessarily losing money and will take action to shore up financial leaks. This analysis capacity is essential if you're looking to take on larger projects and want to ensure that you have enough money to do so.
As Controllers are at their most useful when they're interpreting data rather than entering it, they're not a good position to hire if you're not interested in developing an entire accounting department. At an average annual salary of nearly $100,000, controllers are a good choice for mid-sized companies who either already have an accounting department, or who are looking to create one to support their recent growth.
Reasons to Hire a Controller
You need someone to help you create and/or oversee your accounting department.
You want to ensure your company is in compliance with all financial reporting laws.
You need high-level audit assistance beyond simple bookkeeping.
You need a data analyst who can build an annual budget and then monitor your performance.
You want help establishing company-wide financial procedures and policies.
You need someone to protect your company against fraud and misreporting.
The Chief Financial Officer in Construction
Generally, only very large construction companies need to have a CFO in place. This role is in charge of developing complex financial strategies and working closely with the CEO or company owner. The CFO will be the company's best advocate for financial health, alerting the C-Suite when the business' budget is stretched too thin. Their main focus is to create more capital.
CFOs are responsible for communicating with investors and lenders during the process of securing a new line of credit. Going far beyond the work of both the Bookkeeper and Controller, CFOs will bring new insights, ideas, and strategies to the executives. This knowledge helps the company expand into new markets, or run more efficiently in day-to-day operations.
Reasons to Hire a CFO
You already have an accounting department and a Controller, but you are ready for executive-level financial help.
You want a top-level mind to help you develop a better financial strategy.
You need to integrate your finances with the rest of your business operations.
You want to maximize your current cash flow while finding new ways to generate capital.
You need a person to handle relationships with lenders, banks, investors, and stakeholders.
You want someone to help make company-wide technology decisions such as your software stack and cloud platforms.
You need help with a merger, acquisition, or complete company restructuring.
By hiring a new financially savvy person in your company, like a CFO, Controller, or Bookkeeper, you'll be able to better align your finances with your business goals. Most importantly, you'll no longer be solely responsible for your company's finances. This will allow you to focus more on other important aspects of running your business.
>> RELATED ARTICLE: Understanding the Pros and Cons of Factoring in Construction
---
Back to blog