Most business owners know the importance of building a unique "brand" for their construction company. Many know that using social media (SM) to brand their business can play an integral part in their branding efforts, but that's where they often begin to encounter problems.
Marketing using social media can be quite intimidating for the average person… especially if you're not one of those who spend hours every day scrolling, flipping, and swiping through various social channels. So the CapitalPlus marketing team came up with a few helpful tips to help you get started.
Tips for Getting Started Using Social Media to Promote Your Construction Business
Social media is SOCIAL, not salesy. Think of your followers as friends. Would they want you constantly begging them to buy something? NO! Less than a quarter of your posts should be promotional, the rest can be used to inform, educate or entertain.
Don't think of social as a direct revenue generator. Think of social more like your business cards (when was the last time you asked about the return on investment of business cards?)
Conduct research to determine which social media channels your current customers spend their time. Start with the one or two channels they frequent. Facebook and LinkedIn are popular in our industry.
Your brand needs its own personality and voice to make it stand out, not only in your customers' minds but to differentiate your business from your competitors.
Keep your images, colors, and messages consistent across the platforms. This allows potential new customers to begin recognizing your brand.
Use a variety of post types – some text only, some image-heavy, some videos, and infographics.
What Can a Construction Company Post About on Social? A Few Ideas:
Inner-office events – birthday parties, anniversaries, promotions, the staff's new babies, pets, hobbies (people want to feel they know the people they are working with!)
Newly completed jobs – You are proud of your work, why not show it off? Photos show just how good at your job you are. Don't forget to tag your client… they might just reshare your stellar work on their channel.
Announce new website updates and content – if you publish a blog on your website, share it with your followers.
Announce new services you offer (remember… make it informational not salesy)
Educational information – share/reshare industry news that you found helpful or interesting… even if you did not create it. Your followers might benefit from the content also.
Pro Tips for Using Social Media
Don't treat all channels exactly the same. LinkedIn and Facebook can have longer-form text but Instagram is all about the images and videos.
Monitor your channels. According to Hubspot, 84% of marketers believe social media will become the consumers' primary means of contacting you with customer service questions. So get into the habit now… it will only become more important.
When you post, ask your staff to interact with them – like, comment, and even share. The more engagement a post gets, the more it is pushed into other people's feeds. Just don't "like" your own post… it looks desperate.)
Always respond to comments, both good and bad, as quickly as possible… with a genuine response. The commenter likes to know they have been heard. And others like to see how you treat your customers… even if all you say is "I'm sorry there was an issue. Please direct message us so we can resolve it as quickly as possible."
Polish your channels' bio and "about" sections. Make sure your information, especially your contact info, is correct and purposely written. People will visit this area more than you think when deciding to use your company… according to recent studies, 43.5% will check out your bio before making the final decision.
While you are looking at your bio, make sure to address your NAP (company Name, Address, and Phone number.) That information must match what is listed on your website EXACTLY! This consistency helps search engines better understand and display your contact information when people do local searches like "contractors near me."
Post content on a regular schedule, at least several times a week. And depending on the team's workload and commitment, multiple posts throughout the day is even be even more optimal (especially live videos with get TONS of eyes.)
Social channels allow you to schedule posts. Scheduling helps you to be more efficient by building multiple posts in advance for publishing in the future.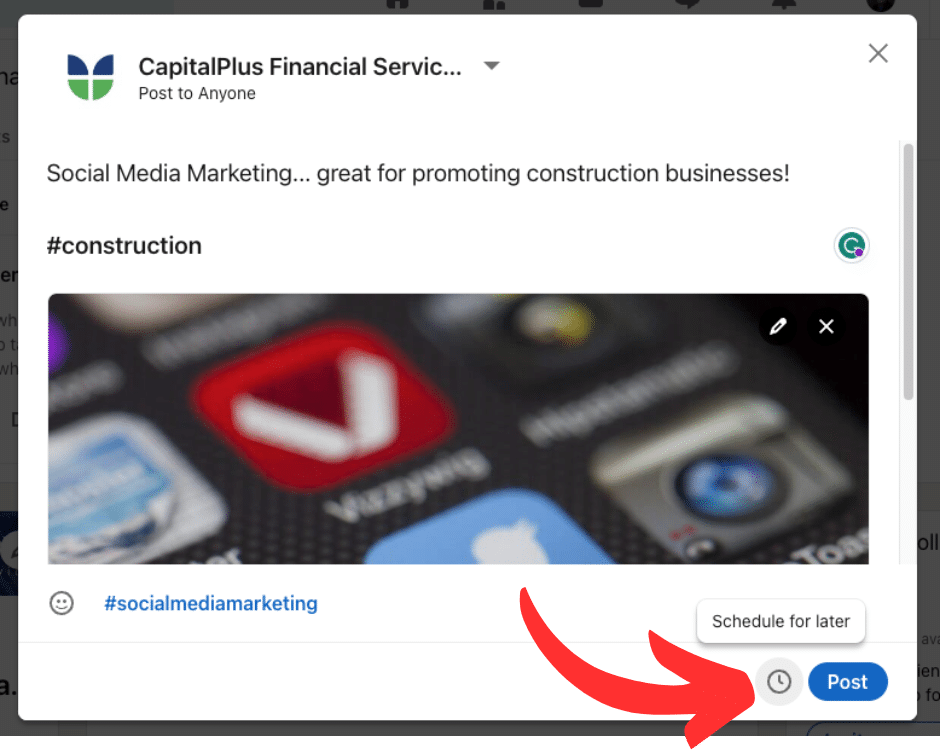 LinkedIn, and most other social media channels, have options for publishing by scheduling. Facebook's scheduling is controlled through their Business Meta Suite which requires some setup explained here.
Always remember, branding is a marathon, not a sprint. It doesn't happen overnight. With social media marketing, it takes time as well as consistent effort to see maximum results. Branding your business can, and should include social media marketing, but keep in mind it's just one of many tools in your branding toolbox.
Back to blog