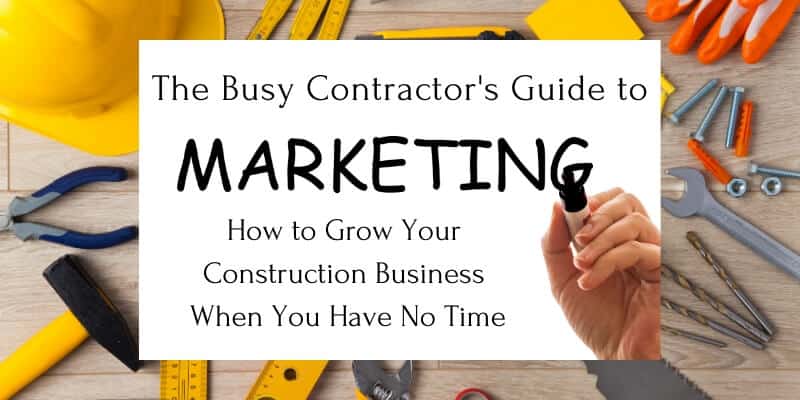 Most contractors are so busy working in their business that they don't have much time to work on their business. Pressing projects and deadlines often take precedence over marketing and growth, but without those two things, incoming work can quickly dry up.
For that reason, we wanted to give you a few ideas for marketing your construction business when you are stretched thin… time-wise.
Start by Building a Plan
The number one thing to start with is to spend more time developing a solid marketing plan that will generate more leads and produce more sales opportunities than you currently have.
You may be thinking, "Yes, but that's the problem – I don't have any more time." It's true. Time is a scarce resource. However, if you shift your focus from "I don't have any time," to, "I don't have any more time to waste," you will set yourself up to make solid marketing decisions that will maximize your time and boost your sales.
It does require some upfront time investment, but the payoff down the line is worth it. You will have a functioning marketing machine that allows you to focus your energy on your projects. And you'll feel less stress when you know a steadily growing stream of work is coming your way.
Let's go over a few marketing and growth ideas meant especially for the contractor without a lot of time to spare. They maximize results with minimal time investment. By being smart with how you use your time, you can generate more leads and sales without losing precious hours to ineffective marketing efforts that don't move the needle.
Hire a Professional to Build or Rebuild Your Website
If you only have one marketing asset, this is the one to have. The majority of leads will decide whether or not to call you based on what they find on your website. If your site is poorly built and maintained, without a clear identity, service offerings, or target market, you will lose business. In addition, if your site is not built with the end-user's experience in mind, they will quickly leave your site in frustration, taking their business with them.
A professional website requires more than most people realize. Your site should effectively express your message and showcase your expertise in a way that will actually serve you.
From words and images to layout and navigation, your website must be carefully designed to lead your audience to contact you so you can make the sale. You are an expert in your industry – that's why your clients hire you.
Because of the significant role a website plays in your marketing efforts, it's best to hire an expert in web design rather than waste time trying to create or redesign a site yourself. Yes, it will require a financial investment, but the time you will save and the leads you will generate will be well worth it.
Create a Marketing Strategy
If your website is already beautifully designed and targeted toward the right audience, it's time to leverage it to create a better marketing strategy. Marketing is an art as well as a science. It requires carefully considered decisions based on data, intuition, and company goals.
Without a strategy, you are likely to do nothing and stay where you are. Or worse, spend unnecessary time trying various unconnected marketing ideas that do nothing for you.
If you don't want to hire a strategist to help you with your marketing, you can still make well-informed decisions on your own. Ask yourself these questions:
Where have you seen your target audience hang out?
Where do the majority of your leads come from?
What do people seem to ask you all the time?
How can you better educate them and develop your authority as an industry leader through the content you create?
Once you answer these and other growth-oriented questions, you can create a solid strategy for your business.
While you can generate your initial strategy on your own, don't be afraid to reach out for help in the execution stage. You will likely need to create more content, which can be time-consuming. Freelancers, agencies, or current employees can help you accomplish your marketing goals.
Automate, Automate, Automate
Along with a marketing strategy, you'll want to take advantage of automation whenever possible. This includes pre-programmed email campaigns that go out automatically based on various dates and triggers. Other automation can include scheduled social media posts and helpful chatbots on your site.
The more tasks you can automate, the less time you'll spend manually entering or publishing information or content. Outsource this setup of the infrastructure. In the long term, consider an in-house resource to maintain a cohesive, streamlined workflow.
Take Small Marketing Steps and Build Over Time
If you're really pressed for time and you don't have the budget to hire anyone to help you, think small with the intention of building slowly. Take a few hours to really think about your goals and where you want to take your business. Evaluate what you're doing that's already working, and what you're doing that doesn't seem to be working at all. Eliminate what's not working, and build upon what's already giving you some positive results.
RELATED ARTICLE: How to Use Social Media to Market Your Construction Business
For example, if you find your on-the-job time-lapse videos on Facebook send a lot of traffic to your site, continue to do more of those. You can also add stories, additional posts, and clearer calls to action. You don't need to start a TikTok channel because your Facebook is doing well (especially if you don't know anybody in construction that uses TikTok). It's better to spend your valuable time improving one aspect of your marketing, rather than doing multiple things halfway.
Back to blog